New stadium proposals over 100bn yen cheaper than initial design
TOKYO — The latest proposals for a new Japanese national stadium cost less than 150 billion yen ($1.24 billion) each, their designers say, passing the first test in a selection process being redone because the initial concept proved too expensive.
The Japan Sport Council unveiled the two new designs Monday. Both came in under the government's 155 billion yen cost ceiling. Doing away with the dramatic but costly keel arches that supported the roof of architect Zaha Hadid's original design, they incorporate copious amounts of wood for a distinctively Japanese feel.
Their designers say they can be completed by the end of November 2019, less than a year before the Tokyo stadium will serve as the main venue for the 2020 Summer Olympics. The International Olympic Committee wants the stadium finished by the end of January 2020.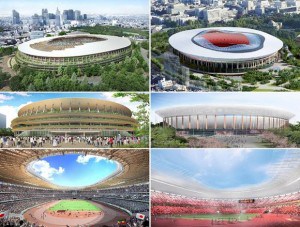 The JSC will open the proposals to comment from the public and athletes, after which a jury will score them. JSC President Kazumi Ohigashi will pick a finalist for approval by cabinet members later this year.
The JSC has not disclosed the name of the teams behind the designs in the interest of maintaining a fair selection process. But people familiar with the matter say that a group including general contractor Taisei put forward design A, while a joint venture involving rivals Takenaka, Shimizu and Obayashi came up with design B.
With a stated cost of 148.9 billion yen, design A stands a modest 49.2 meters tall, compared with the imposing height of roughly 70 meters for the Hadid design. It is meant to blend into its leafy surroundings. A combination wood-and-steel roof will envelop the seating area in "the warmth of wood," according to the proposal.
Design B measures 54.3 meters tall and has an expected cost of 149.6 billion yen. Its creators, too, paid attention to the surrounding landscape. Seventy-two wooden pillars reminiscent of those seen in Japanese shrines support a wavy roof, which "seems to float on air," according to the proposal.
As for stadium capacity, the teams put forward two options: 68,000 seats in time for the Olympics, with a possible expansion to 80,000 afterward.
Their heavy use of wood appears to reflect the Japanese aesthetic that JSC included in the design criteria. Both teams describe their proposals as "forest" stadiums.
"I think it was a coincidence that resulted from our wanting a harmony with the environment and landscape," Takakuni Ikeda, the head of the JSC team in charge of the new stadium, told reporters.